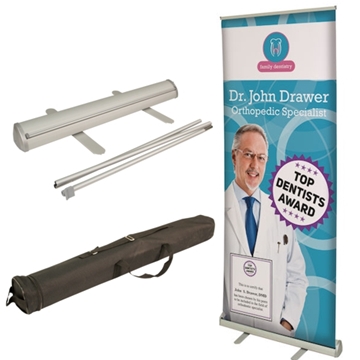 Availablity:
Please Check Product Details for Production Time
A perfect, cost-conscious retractable banner with multiple options for short-term use! The double-footed design ensures stability and is available in three widths. Choose from economical Polypropylene Media or Laminated No Curl for added graphic protection. 35.75" W x 15" L x 81.875" H
More Info
Have Questions About Ordering?
Dimensions:

35.75"(w) x 81.87"(h) x 15"(d)

Product Details:

Your graphic will be printed on no-curl hybrid film
Double-footed design for stability
Banner attaches with snap rail on top and banner tape on bottom
Shock cord pole makes it easy to set up and tear down
Lightweight aluminum base with plastic ends
50 RCAT rating
Carry case included

Material:

no-curl hybrid film

Color:

any

Warranty:

Standard warranty is a 6 month parts and labor warranty which warrants product against defects in material and workmanship.
It does not cover damage due to accidents, abuse, or normal wear and tear. Products found to be defective will be replaced or repaired
at factory's discretion.

Returns:

Damages must be reported within 5 days of receipt. 90 day limit and requires prior factory authorization.
May be subject to 15% restocking charge.

Imprint Area:

Bleed Area: 33.5"(w) x 86"(h) (top .5" & bottom 6" are not visible when displayed)
Finished Size: 33.5"(w) x 79.5"(h)
Safe Area: 31.5"(w) x 77.5"(h)

Art:

High resolution vector file (Acceptable file formats: .ai, .pdf, .eps, .tif, .jpg)
All fonts outlined
Images embedded
200 DPI at 100% scale
Using PMS colors in your art is recommended but an exact match cannot be guaranteed.

Production Time:

Approximately 2 business days